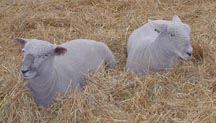 The Southdown flock was started in 1991 because Jody had always wanted a Southdown flock of her very own. The original plan was for about 15 good productive ewes that would produce competitive lambs to show at the South Dakota State Fair. At that time, the Open Class Southdown show was in jeopardy of being dropped from the premium book. The very first year, two yearling ewes, two January ewe lambs, plus one February ewe lamb were exhibited in addition to a January ram lamb. Every Southdown on the farm was shown at the South Dakota State Fair, truly a thrilling beginning for an extremely enjoyable adventure.
This flock was started primarily for personal satisfaction and funded by "Mom's smoking and drinking money." It has grown far beyond anything ever imagined. Currently, fifty registered Southdown brood ewes call our farmyard home. They are never far from view of the house as they keep the building lots and tree belts neat. Through the Southdowns, we have met many youngsters looking for a first time 4-H project and it has been a real joy watching them learn about feeding, fitting and showing of their lambs.
Originally, small groups of ewes were acquired from around the country, but no new ewes have been added the past eight years. Most of the flock is now home bred to add predictability to the breeding program. Three Howard rams have been used down through the years. The current stud rams include a Duron Howard ram, owned jointly with Larry McGuire, a Gale Cole ram, plus several "RR" ram lambs purchased from Larry McGuire.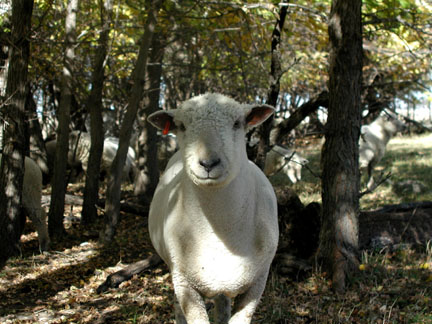 Howard 011 "King Andrew" NNQR
Owned Jointly with Larry McGuire
The majority of the brood ewes lamb during January. This makes for growthy lambs that compete very well in the show ring. The Southdowns are still shown at the South Dakota State Fair in addition to North Dakota, Nebraska and Minnesota State Fairs, and several large county fairs.
Southdown's are rapidly becoming one of the most popular breeds for young people. Their pleasant disposition plus shown slick sheared makes them an easy choice for small children in addition to the ease of show ring preparation. Shearing equipment is readily available that produces a very smooth finish with no fear of cutting the sheep or the child. Our lambs are sold primarily in the spring after they have been slick sheared so the prospective buyers can see the complete package. Take a little time to browse through our pictures to view some of our winning Southdowns. They can win for you the same as they do for us.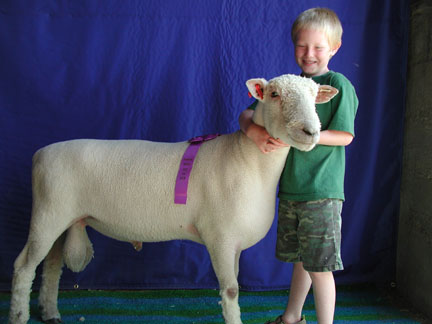 "Fairmont" and Nathan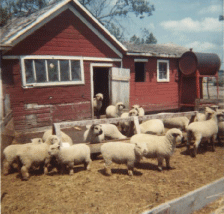 We raised and showed Southdowns in the 1950s and 60s. Southdowns won all the market classes back then.
1992 First Stud Ram
Twelve Oaks "Bucky Boy" NN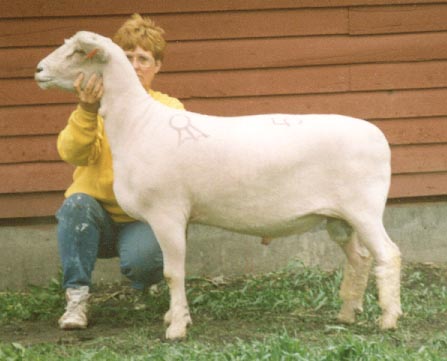 1996 First Howard Ram
Howard 5092 "Howie" NNQR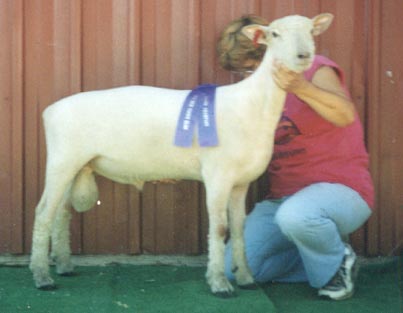 McGuire 089 "Fairmont" NN
2001 Champion Ram,
South Dakota State Fair
Reserve Champion,
Brown County Fair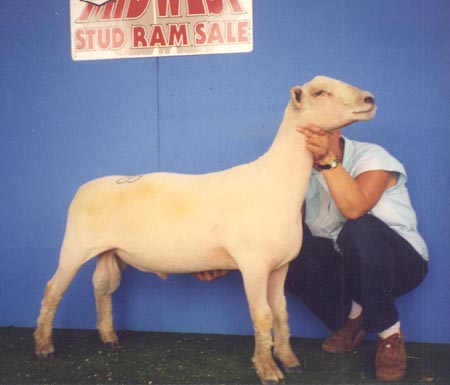 Fall Born - Gale Cole Ram "King Cole" NNQR
Purchased at Sedalia 2000