Three Generations of Fuller Family Make Watertown Show Tradition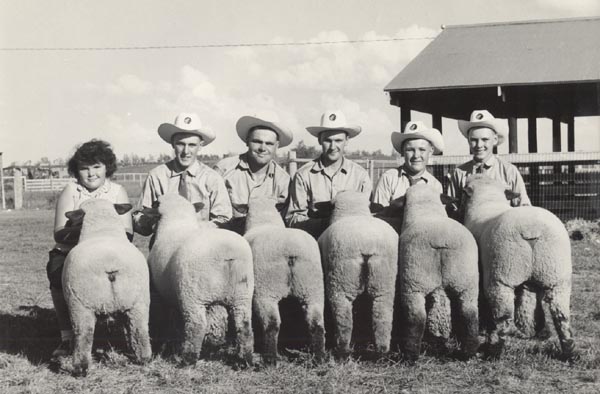 Wednesday, February 2, 2005 2:05 PM CST
Story by Terry O'Keefe, Watertown Public Opinion
For three generations, the Fuller family of rural Clark, S.D., has raised sheep in northeastern South Dakota and each of those generations has been active in farm shows and contests throughout the upper Midwest.
One event, however, was the closest and always has stood out in the minds of the family and the five Fuller brothers.
It started when Bill Fuller's father bought three bred Hampshire ewes for him and his brothers in 1950. Four years later, the brothers participated in the first of 50 Watertown Winter Farm Shows. Since then, the show has become one of the premier farming events in the state, and show organizers have decided to recognize the Fuller brothers' decades of contributions by dedicating this year's event to the family.
"The Fullers have been very strong supporters and have supported the show both by showing up and through word-of-mouth," said Chuck Langner, Codington County Extension educator.
With brothers Wayne, Lee, Terry, Bill and Dick Fuller and even their sister Laraine involved in raising the sheep for a time, the family has stuck with what it knows.
Today, Bill's wife, Jody, also helps raise the sheep and participates in the shows.
"One of us pretty much has been at the (Watertown Winter Farm) show every day for the last 50 years," Lee said. "All of us have been there at least a day every year, except when Wayne and Terry missed out while they were in the Army."
Between the five brothers and Bill's wife, they have 203 years of 4-H involvement and each of the brothers earned American Farmer honors from the National FFA Organization, an award issued to one out of every 1,000 FFA members at the time, Langner said. The title is quite an honor and it was unprecedented for five brothers to all have received such recognition.
"The Watertown Farm Show has a very dear spot in all our hearts," Wayne said. "We've been involved in it all our lives."
The feverish level of involvement has been passed on to each of the brothers' children as well.
"Our kids growing up never missed a (Watertown) farm show," Jody said.
Jody recalled her son's first involvement in the show came when he was only 4 years old. Jody and Bill set their son, Matthew, up with a late-born lamb they knew wouldn't win anything, but would give young Matthew some early experience with the show.
Just as he entered the arena, someone in the crowd let loose a helium-filled balloon with a long string.
"As Matthew walked out there, he saw the balloon. So, he handed the lamb to the judge and took off after the balloon," Jody said through laughter. "We had covered a lot of dos and don'ts over the years, but never considered talking to them about balloons."
Farming has always been a family tradition, and often spans more than one generation, but to have all five sons become involved in the same type of farming is a rarity.
During a period of time that long, a lot can change in a family, and an industry, yet the five have changed with the times and remained committed to something their father started when they were very young.
Some would say farming as an industry was young 50 years ago as well.
"Just look at the animals today," Wayne said. "They don't look anything like what they did when we first got into this."
Lee recalled driving the sheep to a show in Minneapolis in a two-wheeled trailer that didn't even have shocks, and road conditions were a little different in those days. A trip under those conditions could be considered crazy today.
The Watertown Winter Farm Show has changed with the industry and the family.
Organizers expect this year's show to draw 30,000 to 40,000 people to Watertown over six days. As many as 130 commercial booths set up shop at the event.
There was a time when most every county in the state had a farm show, but those days are gone and only a few larger ones remain.
"Watertown is fortunate to have leaders willing to grow and expand with agriculture," Wayne said. "Codington County has been a real innovator. The facilities are great and the organizers' ability to think into the future has made the show the premier farming event it is today."